MCO members voted to approve the proposed 2016-2018 contract.
The contract passed by 1,314 (72 percent of the vote) to 516 (28 percent of the vote). Of the 6,511 ballots mailed, 1,837 were returned, making the ballot return rate 28 percent. Only seven ballots were disqualified.
"We're grateful for those members who followed through and voted on this contract, whether they voted yes or no," MCO President Tom Tylutki said. "They made their voices heard, in a time when they face so many challenges. The collective bargaining process works, and our members  and leaders believe in its value."
Unions leaders and staff will look into ways to raise voter turnout in the future.
Next, the Civil Service Commission must approve the contract. The commission's next meeting is Dec. 16.
See the chart below for the results from each facility. (Click the chart to enlarge it.) The total votes cast column excludes the seven disqualified ballots.
To the members who voted, thank you! We appreciate you taking the time to read the summary, digest it and cast an informed vote.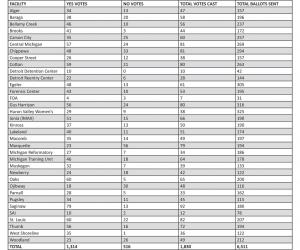 Save