This year's Crisis Fund Golf Outing will include a silent auction where golfers can bid on a framed collection of Detroit Pistons tickets.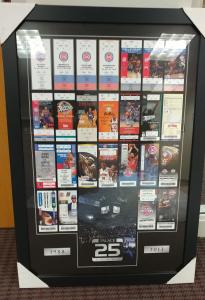 The compilation includes a home-game ticket from every Pistons season from 1988-2013. The Detroit Pistons donated this special prize – thanks, Pistons!
The silent auction will open when the golf outing registration begins at 8:15 a.m. The winner will be announced in the afternoon once all teams are back at the clubhouse. You must be present to bid or win.
The outing will be Friday, Aug. 18 at Ledge Meadows Golf Course in Grand Ledge. Time is running out to register a team or sponsor a tee or cart sign. There are only a few spots left. See this flyer for details or call the MCO central office at (517)485-3310.
The annual Golf Outing raises money for the Crisis Fund, which helps MCO members facing catastrophe.
Save