Michigan Corrections Officers and Forensic Security Assistants are not guards – we are the police force, first responders, and mentors in one, managing incarcerated people.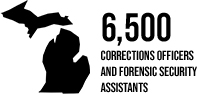 The Fight for progress in corrections is just as important today as it was when we started fighting 50 years ago. We know that there is important work to be done. MCO is a tireless advocate for corrections and forensic officers and a partner in progress on issues that affect the entire corrections community. Through MCO, frontline staff have a voice and provide insight on what works and what doesn't in corrections.
Safety and Security
Corrections PTSD
Michigan Civil Service Commission Rule Changes
Professionalism
Privatization

Whether you're a corrections officer, a corrections administrator, or someone interested in becoming a CO, we're here for you. We'll answer any questions you have about how to become a member or a CO, or how you can partner with MCO in other ways.