Corrections Officers and Forensic Security Aids face dangerous and vulnerable situations every day. The stress caused by the threat of violence, having to be hypervigilant, and missing family events due to mandated overtime makes COs at a higher risk of PTSD and suicide.
MDOC leaders acknowledge these internal battles that corrections staff face and are taking concrete action to address them. MDOC is creating a new Wellness Unit, to be spearheaded by the former leader of a wellness program at the Michigan State Police.
The new Wellness Unit was discussed May 7 at a joint hearing of the Senate oversight committee and judiciary & public safety committee. MDOC Director Heidi Washington as well as the new head of the Wellness Unit, Lynn Gorski, testified on what the unit will entail. Gorski said it best: "Wellness is not a perk (for this occupation). It is a necessity."
Washington said the Wellness Unit would include a peer support program and a chaplain program. Traumatic Incident Stress Management (TISM) would also be improved and operate under the Wellness Unit. MDOC is still waiting on the results of a survey they commissioned on employee stress, but creating a wellness program is necessary now because of the highly volatile environment that COs work in every day, Washington said. Last year, MDOC put together an EPIC committee, including five COs, that designed the wellness program.
The peer support program will provide a way for MDOC employees to talk about their problems with trained volunteers who will help clarify issues and explore options on how to fix those issues. Washington noted that, in some cases, peer support members will not have to follow the employee handbook rule that requires employees to report work rule violations. The program is confidential unless someone reports, or reports the threat of, child abuse, elder abuse, or a felony. The chaplain program would provide MDOC employees and their families with the support of a chaplain during times of crisis and need. MDOC already has a chaplain program for prisoners but realizes the necessity of having one available for staff as well.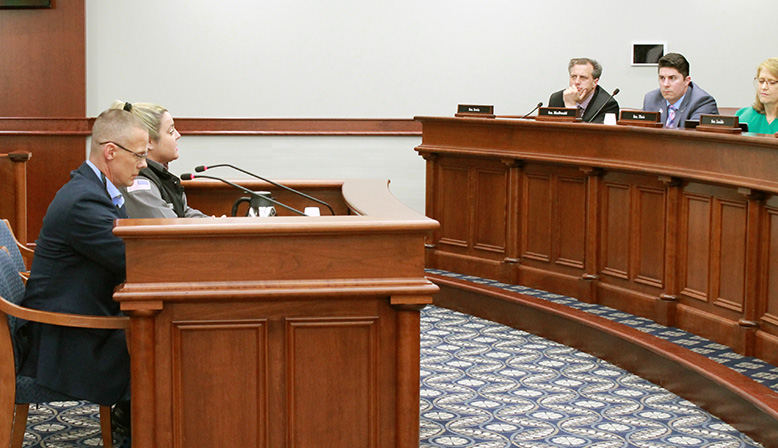 MCO Recording Secretary Cary Johnson and Executive Director Andy Potter testified at the hearing. Johnson provided testimony on the struggles that frontline staff face from the viewpoint of a CO, and spoke about the friends and colleagues that she has lost to suicide in the last four years. Johnson emphasized that she would have never expected any of those people to have committed suicide. Johnson says that COs need a wellness program because of the stigma of talking about mental health and the normalization of traumatic events. Johnson said that short-staffing, mandated overtime, and low morale due to excessive, petty discipline are other reasons why stress is so prevalent among COs. These problems became more prominent as a result of the Civil Service rule changes that took effect Jan. 1. Johnson said these issues may impede MDOC's ability to get officers' buy in for the Wellness Unit, but said she'd encourage COs to give it a chance. She also commended MDOC's work on the Wellness Unit and the decision to hire Gorski. During MCO's stress research, union leaders had met Gorski and were impressed by the wellness work she did for MSP, Johnson said.
Potter indicated that the Wellness Unit is a step forward but also emphasized that MCO is a resource for MDOC and should have a seat at the table. Potter offered MCO's continued assistance and support of wellness and suicide-prevention efforts.
Although legislators appreciated MDOC's new program, there were suggestions going forward. Sen. Ed McBroom suggested that the MDOC continue focusing on staffing, even if their goal of 400 vacancies is met. Sen. Tom Barrett suggested that the MDOC focus some of their research on veterans since almost thirty percent of new recruits are veterans.
Although it can be hard to see in the moment, we are making progress. Four years ago, no one was talking about corrections PTSD, except MCO leaders and members. Now, MDOC administration acknowledges the problem and is taking steps to address it. The legislature is holding hearings to ask MDOC leaders how they plan to meet staff members' needs. The media is paying attention – there have been half a dozen radio interviews, articles, and TV news stories just in the last few months, with more in the works. (A list of recent articles is below.) Culture doesn't change overnight – it is often a long and difficult process. We are well on our way.
MCO will continue to weigh in on PTSD and the types of help staff need.
-Article by Mikaela Bliven.
Recent articles on corrections PTSD and suicide: