Longtime MDOC Deputy Director Daniel Bolden passed away Dec. 28, 2015.
A memorial reception for Deputy  Bolden will be held from 12 p.m. – 3 p.m. Friday, Jan. 8 at the Central United Methodist Church, 215 N. Capitol Ave., Lansing, MI 48933.
Below is a release with details on his service with MDOC: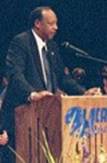 For nearly two decades "Deputy Bolden" was directly responsible for the operation of Michigan's state prisons and prison camps. And he guided the prison system through an unparalleled period of growth.
From fewer than 10-thousand prisoners in 1984, to about 50-thousand at the time of his retirement in 2002. Bolden oversaw the break-up into multiple, smaller facilities, of Jackson prison (once the world's largest 'walled' prison).  And the doubling bunking (two inmates in a cell as opposed to one) of state prisoners ordered by Governor John Engler in the early 1990's
Dan worked his way up through the ranks beginning as a Corrections Officer.  As such, maintaining a good working relationship with MCO was a top operational priority with him as Deputy Director for correctional facilities.  Bolden, on a number of occasions, played the role of Corrections Officer advocate in policy discussions with the MDOC directors, and Michigan governors he served under.
Along with being an exceptional administrator…Dan was also one of the most accomplished athletes ever to come out of Springfield, Missouri.
He attended his hometown college, Southwest Missouri State University, where he was a Division II All-American in basketball. He led SMS to the Division II national championship game in 1967, where his team lost to Winston-Salem State University and its star player, future NBA hall of famer, Earl "the Pearl" Monroe.
Nearly 50 years after he played his last game for SMS, Dan is still among the school's leading scorers and rebounders. He is in both Southwest Missouri State and the Springfield area sports Halls of Fame.
He leaves behind to cherish his memory, a wife, two children and four grandchildren.  One of his 'grands,' Erick Green, was an NBA player with the Denver Nuggets.  As a senior at Virginia Tech University, Erick led the NCAA's Division 1 in scoring for the 2012-2013 season.  He was voted by the media as the Atlantic Coast Conference (ACC) "Player of the Year."  And Dan's oldest granddaughter, Courtney Green, is currently a star basketball player at the University of Delaware.
-30-
Submitted by Warren Williams, former MDOC Chief Spokesman and head of Public Information (1992-1997)