The Detroit Red Wings Law Enforcement Appreciation Night is Thursday, Dec. 15.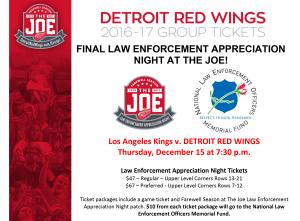 The Wings play the Los Angeles Kings at 7:30 p.m. at Joe Louis Arena. This event will be the last law enforcement appreciation night at the Joe.
Tickets start at $47. Each ticket includes a Farewell Season at the Joe Law Enforcement Appreciation Night patch.  $10 from each ticket will go to the National Law Enforcement Officers Memorial Fund.
To buy tickets, go to detroitredwings.com/law and use promo code LAW. You can also call (313)471-7138.
Law Enforcement Night is open to all law enforcement personnel, includ­ing corrections officers, police officers, sheriffs' office staff, non-sworn officers, and their families and friends.
Save
Save