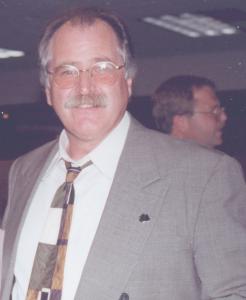 UPDATE 12/14/17: Below is an obituary submitted by President Sowels' family.
Kary L.(Butch) Sowels, passed away peacefully on Monday, December 11, 2017 at his home surrounded by his family. He was born on June 23, 1953 in Pontiac, MI to Orval Alfred and Caroline Eleanor (Burnell) Sowels.  Kary graduated from Chippewa Hills High School in 1971. He attended Oakland County Community College and Ferris State University.
Kary married the love of his life Christine K. Conley. They met on a school bus in high school. He always said it was just like how Forrest Gump met his Jenny. They spent their entire life perfecting their relationship and love.  Christine admired his tenacity to finish any project he started and his amazing energy.  He was a true workaholic at home and work.
After 25 years working with the Michigan Department of Corrections as a correction officer, he retired in 2015. He served on the MCO (Michigan Corrections Organization) executive board several years and then as the President from 1996 – 2004. He was a true warrior fighting for the rights of working men and women.
Kary's primary focus after retiring was to spend as much time as possible with family. He adored his children and grandchildren. He was living his retirement dream having returned to in his childhood home on the water.  He loved fishing, hunting, boating, snowmobiling and spending time teaching his grandchildren these sports.
Kary's memory will be continued by his family that include: his wife, Christine Conley-Sowels; children, John A. (Shelley) Bott Jr. (Mecosta) and Racine K. Reeves (Mecosta).  Seven grandchildren Daryan Davis (Charlotte), Ayana and John Bott (Mecosta), Makiaya, Nyeanie, Olivia and Lomiaya Reeves (Mecosta).
His Sisters: Terry Kern (Florida) and Penny Sue Webbley (Mecosta)
His Brothers:  Gary Sowels (Texas) and Larry Sowels (Michigan).
He will also be missed by his mother-in-law, Eloise E. McNeilly, Mecosta, sister-in-laws Cathleen (Al) Conley Treichel (Mecosta), Mari (Kent) Clark (Potterville) and brother-in-law Walter K. (Kathy) Conley (Charlotte).  He dearly loved all his nieces and nephews.
Preceded in death by his parents, stepfather (Glenn Stockwell), father-in-law (Dr. W.K. Conley), brother (John Jerry Sowels), sister (Rev. Sherry Conway),  and sister- in-law (Lori Conley).
A private celebration of Kary's life will take place with family and friends on Dec. 16, 2017 at their family home.  In lieu of flowers please contribute to the Camp Lor Memorial at Isabella Bank in Kary's name.
Share a memory or sign the guestbook on the Daggett Funeral Home website, daggettgilbertfuneralhome.com, by clicking the sign guestbook tab on Kary's page.
ORIGINAL POST 12/12/17:
Former MCO President Kary Sowels passed away Dec. 11.
Sowels served as MCO President from 1996-2004. He started as a corrections officer in 1989 and served as an MCO chapter leader. Over the years, he worked at Huron Valley Men's, Cotton, Pine River, and Central Michigan. After his time as president, he returned to work until he retired in June 2015.
Sowels was a passionate leader who worked tirelessly for safer working conditions.
Check back for more details on Sowels' service to the union and other information.
Rest in peace, President Sowels.