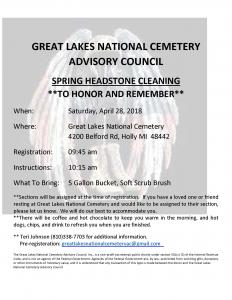 We received an invitation to help clean military headstones once again at Great Lakes National Cemetery, 4200 Belford Rd., Holly, MI. on Saturday, April 28, 2018.
When MCO first started the Military Members Project, a bunch of us had the pleasure of helping with this. It was such an honor and a BEAUTIFUL place!
Please, if you get a chance to help with this project, I promise it will be well worth the experience. You will be enlightened. As of right now, we have volunteers going from WCC and CFP. Anyone & everyone are welcome to help.
If interested, please contact me, Cindy Kogut, at the MCO central office at 517-485-3310 or cindy@mco-seiu.org.
By Cindy Kogut