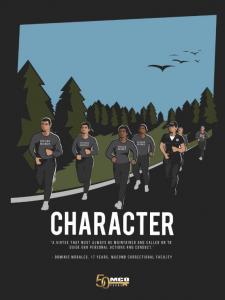 Your character tells a story about who you are and where you've been. We're not born with character – it's instilled in us from a young age and shaped by our families and our experiences.
Character is this month's value in the Michigan Corrections Organization – Move Forward Campaign. Throughout the campaign, we'll introduce a shared value of our membership, accompanied by a unique poster, every month until Labor Day 2018. Click poster at left to see it larger.
At the academy, our fellow recruits and trainers help us to develop our character as we learn the high standards required by a career in corrections. When we get to the institution, our supervisors, co-workers and mentors help us to sharpen those skills and bring character to all aspects of our work.
Character is vital because we must rely on each other when stressful or dangerous situations arise behind the walls.
"In a prison, we have to be vigilant and prepared, knowing that anything could happen at any time," said CO Tim Fleury of Alger Correctional Facility. "If you have faith in your partner's character, you know they'll be at your side and have your back. That makes all the difference. We must have character because we are trusting each other with our lives."
Why is character important to you? MCO wants to hear from you and lift up your stories. This is how we start to change the narrative on the corrections profession. Email MCO Communications Director Anita Lloyd at anita@mco-seiu.org.