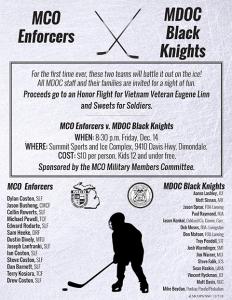 The MCO Enforcers and MDOC Black Knights hockey teams will face off for the first time ever! Join us at 8:30 p.m. Friday, Dec. 14 at the Summit Sports and Ice Complex in Dimondale near Lansing. Tickets are $10. Kids 12 and under are free.
This will be a fun event for the whole family. View a flyer here.
The MCO Military Members Committee is hosting the event. All proceeds go toward an Honor Flight for Vietnam Veteran Eugene Linn and Sweets for Soldiers.
"We don't get enough chances to come together outside of work," said Ray Sholtz, MCO Vice President and chair of the Military Members Committee. "Events like these build camaraderie, so I hope to see lots of members there."