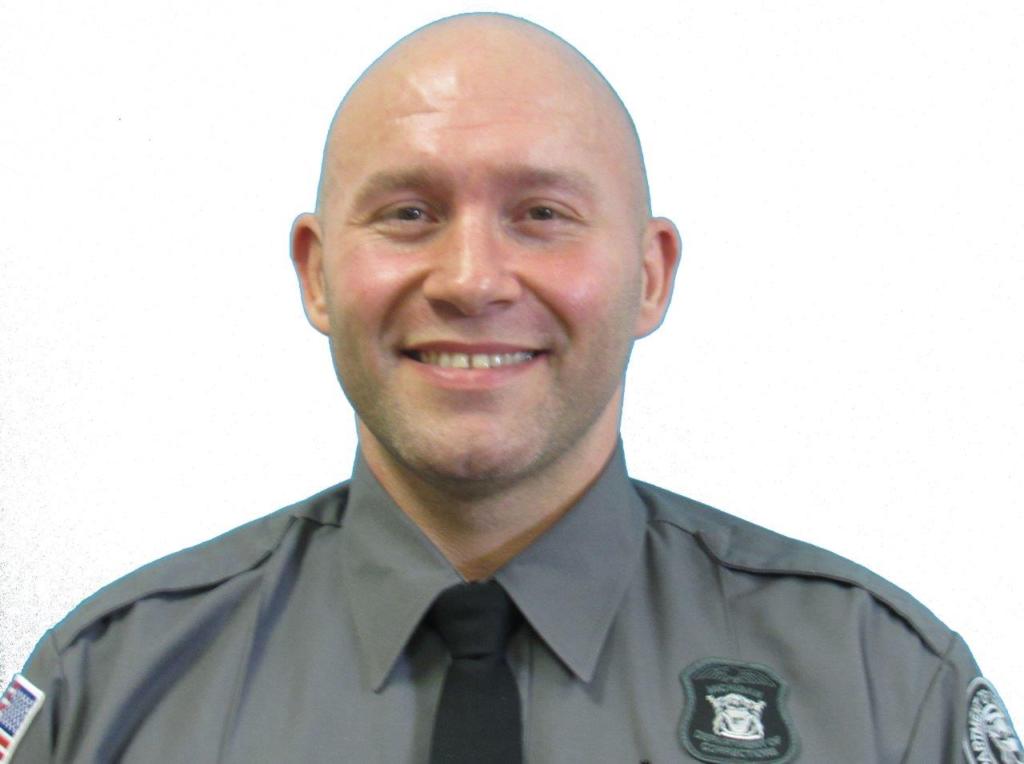 Neil Costello, a corrections officer at the Michigan Reformatory, has been named the 2022 Michigan Department of Corrections Officer of the Year.
Officer Costello has been an MDOC corrections officer for 19 years. He is known at work for his decision making, sharp attention to detail, and ability to work well in high-pressure situations.
He is respected by his peers and supervisors alike and has been an asset to the safety and security of the Michigan Reformatory. Because of his skills and attentiveness, he has made multiple difficult split-second decisions that have saved the lives of his fellow staff and prisoners. He is always looking out for the safety of others.
"I feel incredibly humbled and honored being selected to be officer of the year," Costello said. "I have a lot of hardworking, dedicated staff who share a common goal to make sure the facility is safe and runs smoothly working around me. They along with my family motivate me daily and help keep me grounded. I am incredibly thankful for my family and friends. They inspire me to be the best version of myself."

Officer Costello volunteers at the Ionia Free Fair every year on COPS Day to help with officer recruitment. He also helps fundraise for ACS Relay for Life and the ALS Association.
Ray Sholtz, who represents corrections officers on the Officer of the Year selection committee and is the Chief of Staff at Michigan Corrections Organization, said all the finalists for the award this year were phenomenal.
"Congratulations to Officer Costello and the finalists for MDOC Officer of the Year. This was the strongest field of candidates I have seen during my time as a member of the selection committee. Each one of these candidates are exceptional, and credits to the profession," Sholtz said. "Officer Costello is an extraordinary officer, and an even more impressive person. His dedication to his fellow officers and the people they protect and serve inside the facility is admirable."
Finalists for Officer of the Year:

Thaddeus Ostrewich, SLF
Officer Thaddeus" Thad" Ostrewich was respected and loved by his fellow officers. During the pandemic, there would be late transfers, requiring CTO's to be out late, working over 16 hours. He would volunteer for these runs so that the CTO's with little children could be home with their families.

He loved his children and giving back to his community. While his daughters were still in school, he would go to school during career week and speak to the class about his career and the consequences of criminal behavior.

Sadly, Officer Ostrewich passed away on September 28, 2021. He is survived by his wife, two daughters and two stepsons. Thad had 27 years with the MDOC. He was also a U.S. Marine veteran. He was part of the 1st Battalion, 24th Regiment, serving in Operation Desert Storm and obtaining the rank of Staff Sergeant.
James Taylor, SMT
Officer Taylor is known at his facility for being a dependable and punctual officer who is always willing to go the extra mile and is always one of the first to respond to any critical incidents or calls for assistance.
While driving home, one afternoon after leaving work, Officer Taylor noticed a house was on fire. He realized he was the first one on the scene and quickly pulled over, ran into the burning house, and rescued the family and their pet before firefighters and paramedics arrived.
Officer Taylor has been with the MDOC for 22 years. He regularly participates in Shop With a Cop, provides Christmas donations to the local shelters, and donates to the GoFund Me's for corrections officers and other first responders. He and his wife have two sons.
Brent Boeskool, MCF
Officer Boeskool is known for his professionalism, organizational skills, and knowledge of all department and facility policy and procedures. As a facility mentor, he passes on his knowledge and experience to new employees during their on-the-job training period.
He pays great attention to detail and has displayed sound judgment in dangerous situations. Last summer, Officer Boeskool, while making an addtional round while working as a school officer, noticed something was strange when he was checking the hearing investigator's office. He opened the door to the office, observed a prisoner attempting to sexually assault the hearing investigator, and quickly moved the prisoner away from the officer, called for assistance, and subdued the prisoner until help arrived.
Officer Boeskool has 22 years with the MDOC. He and his wife have two sons. He is actively involved in his local church and fundraising for his sons' football and travel soccer teams.
Philip Smith, ARU
Investigator Smith is known for his tenacity, work ethic, and extensive knowledge, leading to his invitation to become a member of an internal EPIC team to revise the 15-year-old Absconder Recovery Unit. He was instrumental in the smooth operation of Green Oaks Correctional Center, helping develop their perimeter security post orders.
Investigator Smith is an ambassador for the MDOC, working closely with law enforcement from the local departments and federal agencies. He has been a part of the United States Marshal Service's Lansing Area Fugitive Team for the past 10 years. He also works with employees from the MDHHS, assisting in combating fraud.
He works on high profile fugitive and absconder cases, one such case was the Ricky Wheeldon case, which caught the attention of dog the Bounty Hunter. He was awarded the MDOC's Meritorious Service Award for a case where he sustained injury while protecting a baby from a suspect he was apprehending.

Investigator Smith has been part of the MDOC for 28 years. He was an officer at Huron Valley Center, Woodward Corrections Center, Western Wayne Correctional Facility, Pine River Correctional Facility before becoming an ARU investigator. He has one child
Congratulations to the finalists and all of the Facility Officers of the Year! They are:
Cassandra Chandler, DDC
Michael Leech, SAI
Wing Lam, RGC
Mary Duncan, LRF
Erick Shafer, DRF
Ryan Nebel, MBP
Derek Hively, ARF
Geoffrey Roberts, TCF
Rodney Brooks, LCF
Richard Jones, SLF
Austin Peabody, IBC
Joseph Voorheis, ECF
Ann Laux, JCS
Patricia Parish, KCF
Mark Tervo, MTU
Jason Kin, AMF
Lawney Libbey, URF
Rhonda Bolton, WHV
Lisa Baugher, STF
Steven Joseph, JCF
Monte Newland, ICF
David Burke Sr., NCF
Garret Ehred, WCC
Pete Wazny, MRF
Margaret Charbonneau, SRF
Kim Hill, LMF