After years of research and planning, MCO's Fallen Officers Memorial was dedicated May 7, 2017. As bagpipes played "Amazing Grace," corrections officers lifted the veil off the long-anticipated memorial, giving corrections staff, other law enforcement, legislators, and union supporters their first glimpse of the monument that honors Michigan corrections officers killed in the line of duty.
"It's very moving," Sally Budd, sister of fallen corrections officer Jack Budd, said that day. "It's beautiful because it's so simple. It's also a stark reminder of the danger of the job."
The memorial honors the four corrections officers who have lost their lives in service to the people of Michigan. They are George Haight (date of death March 27, 1893); Earl DeMarse (Sept. 25, 1973); Josephine McCallum (March 24, 1987); and Jack Budd (Dec. 27, 1987). This memorial is our way of ensuring the sacrifice of these officers is never forgotten.
A memorial had been discussed several times over the years but never came to fruition. Then, in 2015, a few corrections officers and retir­ees approached the MCO Executive Board with a detailed plan for a memorial. The Board approved a committee to research a memorial and turn this long-standing dream into a reality.
The investment MCO leaders put into the memorial and the unveiling ceremony sent a strong message to all members: your union leadership understands and appreciates the dangerous nature of your job. We won't forget. We won't stop fighting for safer prisons and a voice in our working conditions.
"Corrections officers are on duty 24 hours a day, seven days a week, and they face a lot of danger, aggression, and insults," MCO Executive Director Andy Potter said. "As corrections reform moves forward, our hope is that the voices of these fallen officers and the voices of corrections and forensic officers who are still working do not go unheard inside these changes."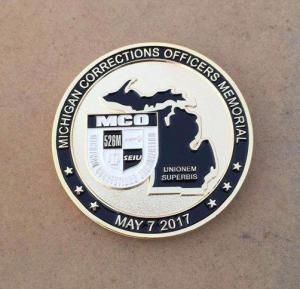 To mark the occasion, MCO created a special commemorative coin that was given to all guests at the memorial unveiling. The memorial honors the fallen, but the coin acknowledges those currently working behind the walls.
"Whenever someone looks at this coin, we hope they reflect on us, the corrections officers, working at that very moment. We put our safety on the line in service to our communities every day," said Lorraine Emery, corrections officer at the Bellamy Creek Correctional Facility.
Any MCO member may receive one of these coins by visiting the memorial at the MCO Central Office, 421 W. Kalamazoo St., Lansing, during regular business hours (8 a.m. to 4 p.m. Monday through Friday, excluding state holidays).