MCO is proud to announce a new effort aimed at promoting corrections and forensic officers and the values and standards that set them apart in the criminal justice system.
The "Move Forward" campaign ties together all of our recent efforts to promote professionalism in corrections and draws attention to the diverse and unique work expected of the modern-day corrections officer.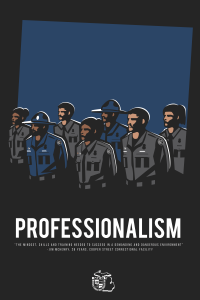 Through the campaign, we'll introduce a new value, accompanied by an inspirational poster, every month until Labor Day 2018. These posters will be displayed on the union bulletin board at your facility, the MCO website, Facebook and new Instagram page.
Look for this first poster going up in your facility soon. Click the image or click here to view it larger.
In addition, a special 50th anniversary logo and coin will be unveiled to celebrate MCO's 50 years of advocacy on behalf of corrections officers and forensic security assistants.
The campaign is also a way to affirm our position that as corrections officers, we can have a meaningful influence on policy and help shape the direction of our statewide and national criminal justice systems. By speaking with "One Voice," MCO has created a nation-wide effort to inject the voices of officers into the corrections reform debate. This allows you the ability to impact the safety, health, and security of staff and inmates alike. More on One Voice will be in the next MCO Report.
This is how we start to change the narrative and tell a new story about corrections officers.  For years, MCO members have pushed for increased engagement and communication. These are your messages. Thank you, members, for your continued support.
Make sure you stay up to date by reading the KYI and MCO Report. Get MCO news first – sign up for our email alerts and join our members-only Facebook group. Have feedback on the Move Forward campaign? Send your thoughts to mail@mco-seiu.org.
Save
Save
Save
Save
Save
Save
Save
Save
Save
Save
Save
Save
Save