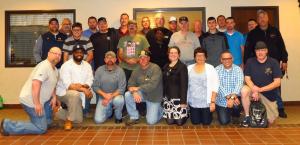 Last Tuesday,  Military Advocates from around the state came together to learn more about military benefits and services.  Kim Suchek, a Military Veterans Advocate, discussed important things all service members should know as well as a wealth of veterans benefits from healthcare to education.  Some important takeaways were the information on the new VA photo cards for Military and Veterans regarding the Star Card Commissaries roll-out and information on burial and memorial benefits.
MCO staff trained the group on military leave rules (USERRA and MCSC) for those returning from active duty and those in National Guard and Reserves along with topics such as giving advance notice to HR on leave, keeping copies of LES statements and DD-214 forms, and updating service credits with ORS.
The group then participated in a workshop to help them learn how to organize successful events and fundraisers.  MCO staff and Military Committee members agreed that communication is very important.
Ray Sholtz, Chairman of the Military Committee stated, "It's pretty exciting that we are finally here and able to get the Military Advocates the tools they need to start working at their facility providing services to our members."
Cindy Kogut, Military Committee Staff Rep. stated, "This was a long and exciting process that took a lot of effort to get it going, but was well worth it."
Thank you to all Advocates that came down and participated!