Corrections staff are extremely loyal – to our work, to the people of Michigan, and to each other.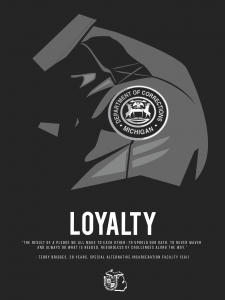 That is why this month's value in the Move Forward Campaign is loyalty. Through the campaign, we'll introduce a new value, accompanied by an inspirational poster, every month until Labor Day 2018. Look for this loyalty poster in your facility soon. Read more about Move Forward. (Click the poster image at left to see it larger.)
When we as MCO members talk about having each other's back, we're showing our loyalty to our corrections family. When we speak up about safety and security risks, we not only express our concern, but our loyalty to each other.
MCO leaders and staff appreciate the loyalty of our members and all staff. We know you have always had a choice as to whether you belong. MCO is a movement, and we appreciate your loyalty to the movement and your coworkers. We reached out to a few members to ask what loyalty means to them.
"Whether you have almost 30 years in like me, or you're just starting your career, be loyal to the MDOC and the profession," said Terry Bridges, an SAI corporal with 30 years in the MDOC. "That means come to work squared away and ready for whatever might happen, because no two days are the same. Be ready to back up your partner. Know that you are appreciated, even though you may not feel it every day."
CO David Altenberndt, an RGC officer with 33 years, had this advice for staff.
"Police, firefighters, and military are loyal to each other because they have to be. That's their occupation and it's expected of them. In corrections we have to be loyal to each other, too," Altenberndt said. "Respect your position as officers and put yourself on a higher level. Remember you're in a position where, like a policeman or someone in the service, people hold you to a higher standard. Always try to achieve that….
"When we're loyal to each other, we all have the confidence to know we can come to work every day and go home safe at the end of the day."
Erin Griffith, a CO with the MDOC about three years, had a different perspective.
"There's more loyalty and camaraderie in corrections (than my previous jobs) because our fellow COs are the only ones who know and understand what happens when we go through those gates to go to work every day," Griffith said. "The physical and psychological aspects of our work bind us together."
Thank you, members, for your loyalty to MCO and each other.