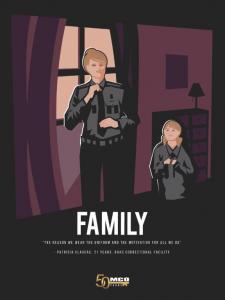 It is widely known that corrections is a difficult environment and officers get little recognition. From long hours to dangerous situations, it's easy to ask why officers do the job. For most, that answer is easily traced back to one extremely important reason: family, and providing them with a humble living.
That's why family is this month's value in the Move Forward Campaign. Click the poster at left to see it larger.
"This career is a double-edged sword – we do it to provide for our families, but the stress of it can separate us from our families if we aren't careful," Cotton Officer Steve Hammond said. "It's so important that we open up to our loved ones and appreciate and make time for them."
"I chose this career to provide for my family, but there is so much mandatory overtime. There are times we make plans with our families and we have to miss them because we have to work," Hammond said.
Families inspire COs to do the job with pride.
"When I walk through the gates, I know what could possibly transpire inside," Bellamy Creek Officer Mindi Vroman said. "Knowing that my family understands the importance of what I do and is behind me 100% keeps me motivated on the task ahead and anchored in doing the best job possible."
MCO is dedicated to serving not just corrections officers, but their families. We know mandatory overtime is taking a toll on families, and we are constantly advocating for more staff. We are also developing a partnership with MDOC to help them not only recruit but retain corrections staff. All of us and our families depend on it.
When you go home after your shift, make time to connect with your family. After all, they're the motivation for all that we do.