Update May 11: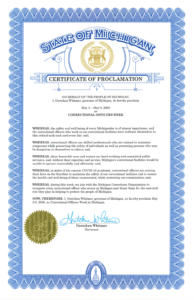 Like we mentioned last week, the governor put all proclamations on hold during this time of emergency.
However, because we are essential staff who are working hard to keep others safe, the governor made a special exception and issued a proclamation for Correctional Officers Week.
For the past four decades, MCO has obtained a proclamation from the governor recognizing CO week. We are pleased that this long-standing tradition was honored again this year.
Thank you again for your tireless dedication during this time of crisis. Stay safe.
Original post May 4:
The first week of May has traditionally been Correctional Officers Week, here in Michigan and around the U.S. During this week, we pause to thank corrections officers for their dedication and service.
Because we are under a state of emergency this year, all proclamations are on hold. But we aren't letting that stop us from recognizing and celebrating corrections staff. Now more than ever, it's important that the public understand what corrections officers do and the important part they play in keeping them safe.
To that end, four Michigan legislators have recorded videos showing their appreciation and telling citizens about your vital role in public safety. We'll be sharing the videos throughout the week.
Today's video comes from Rep. Sarah Lightner. She represents Blackman Township and surrounding areas in Jackson County.
See more CO week videos on our YouTube channel.
To say these are difficult times would be an understatement. MCO leaders and staff understand all that's being asked of corrections officers in this critical moment. You're putting your personal health on the line, distancing yourselves from family, and working a massive amount of overtime. Leaders and staff can't thank you enough for meeting the challenges of this time with professionalism.
Stay safe and well.