Behind the walls of Michigan's prisons, you – more than 6,500 hidden heroes – work. Your courage and caring qualifies you to stand between Michigan's communities and the thousands of people incarcerated across the state. Although often unacknowledged and underappreciated, you are a humane and constant force in Michigan correctional facilities and the Center for Forensic Psychiatry. You aren't a babysitter or a guard; you're a corrections expert who manages an inmate population in a difficult and sometimes dangerous setting.
You're a professional.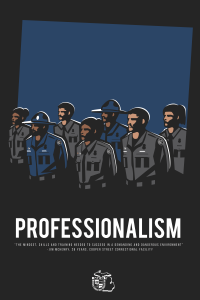 Professionalism is the first theme in MCO's new Move Forward Campaign. Through the campaign, we'll introduce a new value, accompanied by an inspirational poster, every month until Labor Day 2018. There will also be videos, stories, and more to celebrate our 50 years of advocacy on behalf of corrections officers and forensic security assistants. Read more about the Move Forward Campaign here.
MCO is the midst of a state and national campaign to move corrections toward a more professional work model. Michigan corrections officers receive top-notch training, including 320 hours of academy learning, plus two months of on-the-job training. Like a police training academy, the corrections academy is a regimented program that instills esprit de corps among recruits.
Let that shared bond and sense of professionalism continue throughout your career.
"A good corrections officer isn't just here for a paycheck. They're here because they want to serve the public and they're here to do a good job, an honest job," said CTO Jeff Reasoner, who started with the MDOC 18 years ago. "We are members of the criminal justice system, and the ones that actually realize that and think of themselves as corrections professionals do much better."
"Some people like to say, 'Oh, you're a guard,'" said 27-year Officer Richie Gallatin, of Gus Harrison. "Well, we're more than that. We are part of the law enforcement commu­nity.
"To a certain extent, this job is what you make it. You can go in and just put in your eight hours, or you can make a difference. I was always taught that you do a job and give your all, and that's what I've tried to do. If I feel I can make a difference, I try to.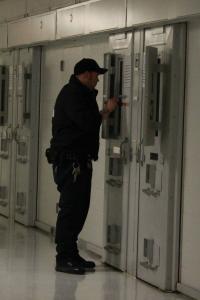 "That's what it means to be a professional – to care about your work, to value it, and take advantage of the opportunities for growth in the workplace."
Every CO can take small steps to promote the professionalism of corrections officers. By doing so, you are also doing your part to change the old, tired narratives about corrections officers. These recommendations may seem minor, but, if all 6,500 Michigan COs practice them every day, their cumulative impact on the public's perception of corrections staff could be huge.
Be comfortable with giving and receiving praise. Don't belittle or diminish the professional achievements of fellow officers or yourself. Lift up your coworkers'
accomplishments and your own.
If someone calls you a prison guard, tell them you are more than that. You are a corrections officer who sacrifices personal safety and well-being every day to keep communities safe. You are a mentor, a teacher, a manager, and a law enforcement officer wrapped into one.
Be open to talking about your job publicly, with your neighbors, family, and friends. When we boldly show our faces and tell our stories, our genuineness can earn public trust and empathy.
Be willing to talk about corrections with people who misunderstand the work you do. Strive to find common ground, even if it's narrow.
Take all the training you can get. The extra training and experience you receive will only bolster your case when you say you are a professional.
Thank you, members, for the professionalism and strength you show every day. MCO leaders and staff recognize and appreciate your work, and we commend you for your tireless dedication to Michigan's toughest job.
Save
Save
Save
Save
Save
Save