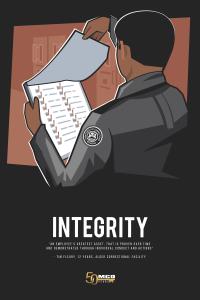 In life or on the job, integrity is among the most important values an individual can possess. It is central to earning the trust of the public and vital to building relationships with our co-workers, supervisors, friends and family.
Integrity can mean something different to us all. For some, it's simply following through on your word or doing what is needed when no one else is looking. For others, its being a good role model, practicing what you teach and leading by example no matter what the situation.
That's why integrity is this month's value in the Michigan Corrections Organization – Move Forward Campaign. Click the poster at left to see it larger.
For corrections officers, integrity can be displayed in a variety of ways and is often tested at every turn. But who we are and how we conduct our business, speaks volumes about our profession and illustrates the key role we play in the criminal justice system
Corrections Officer Pam Basal of the Marquette Branch Prison said that she has run into former inmates while volunteering at the U.P. State Fair, and they've commented on the integrity of officers and what impact it had on their lives.
"They said the programming was good, but it was the officers in the unit that made the difference, that made sure that they got up, learned to be responsible, set an example for who they should be…we (the COs) helped change them," CO Basal said.
What does integrity mean to you? MCO wants to hear from you and lift up your stories. This is how we start to change the narrative on corrections work and break down the misperceptions of who officers are and what matters most in our profession. Email MCO Communications Director Anita Lloyd at anita@mco-seiu.org.