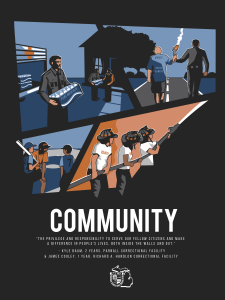 Corrections staff might be hidden behind prison walls, but when their shift is over, they are a visible force for good in their communities.Whether they're coaching little league sports, fighting fires, or working at a food pantry, corrections staff volunteer their time to serve and improve communities.
Community is the second theme in MCO's new Move Forward Campaign. Through the campaign, we'll introduce a new value, accompanied by an inspirational poster, every month until Labor Day 2018. There will also be videos, stories, and more to celebrate Move Forward and our 50 years of advocacy on behalf of corrections officers and forensic security assistants. Look for this community poster in your facility soon. (Click the poster to view it larger.)
MCO is leading a state and national campaign aimed at elevating the corrections profession in the eyes of department administrators, lawmakers, the media, and the public. We have been cultivating relationships with MDOC administration, legislators, and other policy makers so our advocacy for corrections officers will have a greater impact.
For years, MCO members have pushed for increased engagement and communication. These are your messages. Thank you, members, for your continued support.
Corrections staff can help by establishing even more relationships in their communities. Find something you're passionate about and get involved. Talk to people about your job – the training, the stress, and the recruitment needs. Tell them you're a first-responder, a teacher, and a mentor wrapped into one. Make sure they know that you protect and care about your community.
We asked some corrections officers why it's important to volunteer in their communities. Below are some of their comments.
Are you volunteering in your community? Let us know. You can email anita@mco-seiu.org with a short description of your volunteer work. Please include your name and phone number so we can contact you. We encourage you to send photos of your volunteer work, too!
"We're not just corrections officers; we're people. We're living in our communities, and we want to make our communities better. Not only for ourselves, but for our kids and everybody else's kids. If we can all come together and do that, I think it makes the community stronger."
– Nichole Sheffield, STF. Helped found and volunteers at Charlton Heston Academy in St. Helen; volunteers at Helping Hands.
"Some people don't trust police officers, and they don't trust corrections officers … It's individuals like myself and others that meet them, talk to them, and change their minds. They're like, 'you're not what I thought a corrections officer typically would be.' That's important because we have been stereotyped so many times, and this is the only way, by us being active or being seen in our communities, that we break those stereotypes." –
– Steven Smith, MTF. Crime prevention organizer; deacon at True Light Missionary Baptist Church in Grand Rapids; former president of the board of directors for the Southeast Community Association in Grand Rapids.
"Number one, volunteering allows us to give back to those who have given to us. Two, I think that it opens that door of communication for the community to ask questions of us and see a different side of us than what we're portrayed as in the media."
– Pam Basal, MBP. School volunteer; UP area chairperson of the Employer Support of the Guard and Reserve.
"It lets people know that you are human and that you care. That you're not just here in this community working, but you live in the community, and you care what's happening in the community. You want to be an integral part of it."
– Richie Gallatin, ARF. Special Olympics volunteer; JV basketball coach; Sand Creek Community Schools Treasurer.
Save
Save
Save
Save
Save
Save
Save
Save
Save
Save
Save
Save
Save
Save
Save
Save
Save