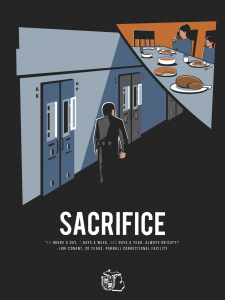 Corrections staff are on duty 24 hours a day, 7 days a week, 365 days a year. Prisons never close, and dangerous situations can unfold any time of the day or night. Corrections staff work holidays, weekends, and evenings. They routinely miss holidays, special events and moments with their families. In addition to regular shifts, many officers are mandated to work overtime, sometimes more than once a week, due to the staffing crisis.
That is why this month's value in the Move Forward Campaign is sacrifice. Through the campaign, we'll introduce a new value, accompanied by a values poster, every month until Labor Day 2018. Look for this sacrifice poster in your facility soon. Read more about Move Forward. (Click the poster image at left to see it larger.)
Every day when corrections staff go to work behind the walls, they make a sacrifice. Not only do they sacrifice their physical and mental health, but they sacrifice moments with their families and friends. Compounding this problem are officers' irregular hours and forced overtime.
"It's extremely difficult to be told, at the end of your shift, that you're going to have to work another eight hours," WHV CO Voncha Henderson said. "Officers must quickly make arrangements for childcare, cancel appointments, and back out of social events. This unexpected work really takes a toll on our mental and physical well-being. It's especially disheartening when it happens around the holidays when everyone wants to be at home with family."
While corrections staff aren't the only profession to work long and irregular hours, they make the most of it because what they do matters across the state. They know that sacrifice is going above and beyond in their work place to make a positive impact on those incarcerated and their coworkers.
And, as always, let's not forget that due to the unpredictable nature of this work, some corrections officers have made the ultimate sacrifice.
George Haight, a gate keeper, was poisoned by an inmate at the Michigan State Penitentiary in Jackson. End of watch: March 27, 1893.
Earl F. DeMarse, a corrections officer at the Marquette Branch Prison, was stabbed 15 minutes into his shift. End of watch: Sept. 25, 1973.
Josephine McCallum, a new employee, was found murdered at the bottom of a stairwell in the activities building of Jackson Central. End of watch: March 24, 1987.
Jack Budd passed away after being repeatedly stabbed by an inmate at the State Prison of Southern Michigan. End of watch: Dec. 27, 1987.
Read more about our fallen officers.
If you are off work around the holidays, please take a moment to think of the corrections staff sacrificing their bodies, minds, and time with their own families to keep Michigan safe.